A brief history of Booths pottery
Booths Ltd were manufacturers of earthenwares at Church Bank Pottery, Tunstall, Stoke on Trent, North Staffordshire.
They operated from 1891 through to 1948:
1842 The Church Bank Works were built by Robert Beswick
1860 The works were then taken over by Beech and Hancock
1862 Eardley and Hammersley took over the works
1864 Evans and Booth commenced business at the Knowles Works, Burslem
1868 Ralph Hammersley alone operated the Church Bank Works
1868 Evans and Booth became Thomas Booth and Co.
1870 Thomas Booth and Co were at Church Bank Works
1872 Thomas Booth and Co became Thomas Booth and Son.
1891 The name on the pottery became Booths
1898 The company took limited status and continued as such until the 1940s.
Identification of Booths pottery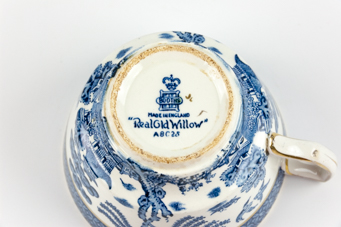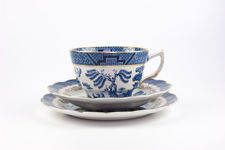 A trio of teacup, saucer and plate by Booths Ltd from their "Real Old Willow" pattern. Second-hand.