A brief history of British Anchor pottery
The British Anchor Pottery Company Limited was a Staffordshire earthenware pottery company based at Anchor Road, Stoke-on-Trent. They were manufacturing from 1884 until the 1970s.
Founded 1884
Bought by The Gailey Group Ltd
In 1963 they produced the Rutland design
In 1966 Tom Arnold produced the Impact design
In 1967 they produced the Strata design
In 1970 they were merged with Thomas Poole & Gladstone China Ltd.
Identification of British Anchor Pottery
They added "England" to their mark in 1891 and laurel leaves in 1913.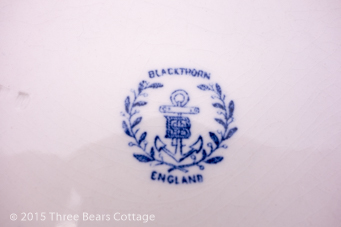 Where can you find out more?
Graham Mclaren, Ceramics of the 1960s (Osprey Publishing, 2001)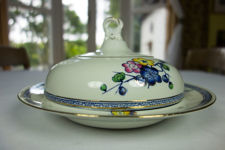 A mid-20th century vintage, Staffordshire serving dish with lid, from the British Anchor Pottery and decorated in their beautiful "Blackthorn" pattern. Second-hand.