A brief history of Charles Letts & Co
In  1796 John Letts established a stationery business in the arcades of London's Royal Exchange.
The merchants and traders who bought items from his shop needed a means of recording the movements of stock and of controlling their finances and Letts responded to this need in 1812, by creating the world's first Commercial Diary.
The diary soon established itself as an essential feature of commercial life and with the introduction of detailed information sections in the 1820s, the first modern-style diaries were published.
Thomas was joined in the family business by his son, Charles, and together they expanded into a limited company in 1870, trading as 'Letts, Son & Co.' Unfortunately, Thomas died soon afterwards.
The public company went into liquidation in 1885 and Charles reformed the company privately as Charles Letts & Co., which traded profitably for the next century.
Today, the company manufactures over 22 million diaries and is firmly established as the market leader in the UK, exporting to over 75 countries.
In July 2001 Letts Holdings Ltd acquired the Filofax Group to become the Letts Filofax Group Ltd.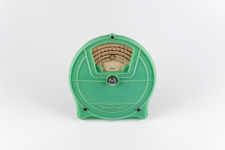 A 1930s, rare, green Bakelite perpetual calendar by Charles Letts & Co. Second-hand.