A brief history of Denby pottery
Denby has been manufacturing since 1809 and are still doing so today. It's a collectable brand and there are a few specialists selling discontinued ranges.
Founded 1809 at Denby in Derbyshire by Joseph Jager and Robert Brohier
In 1815 production was taken over by the Bourne family
Around 1850 the company was known as Joseph Bourne and Son
In 1959 successful expansion into tableware saw the purchase of the Langley Mill Pottery
In 1970 the company was known as Denbyware Ltd
In 1981 they were known as Denby Tableware Ltd
In 1987 they were bought by Coloroll
In 1990 a management buyout as Denby Pottery Co. Ltd, followed Coloroll's entry into receivership
In 2009 a debt write-off and another management buyout allowed them to continue
Identification of Denby pottery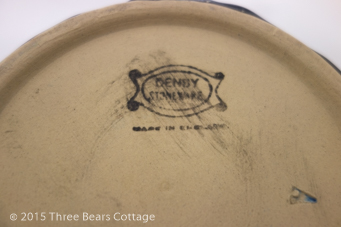 Where can you find out more?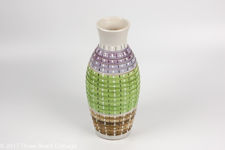 A multi-coloured, stoneware vase from the Burlington range, designed by Albert Colledge in 1958. Second-hand.