A brief history of Poole pottery
Poole Pottery is a well-known, collectable pottery which has been manufacturing for over 150 years.
Founded in 1861 by James Walker at the Architectural Pottery, on the East Quay at Poole, Dorset
In 1873 they were bought by Jesse Carter and marked as "Carter & Co" and "Carter's"
In 1921 potters John and Truda Adams and designers Harold and Phoebe Stabler joined. They're marked as "Carter, Stabler & Adams"
In 1930 "Poole England" marks come into use
In 1964 Poole Pottery Limited is created from merging Carter & Co Poole Pottery with Pilkington Tiles of Manchester
In 2003 they went into administration
In 2007 they were taken out of administration by Lifestyle Holdings (Denby) with manufacturing at the Royal Overhouse Manufactory at Burslem, Stoke-On-Trent
Identification of Poole Pottery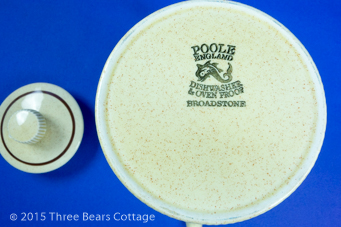 Where can you find out more?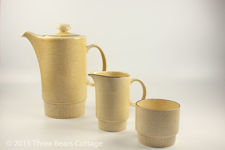 A tall, two-pint coffee pot, milk jug and sugar bowl by Poole Pottery. Second-hand.